Jurassic World: Dominion Dominates Fandom Wikis - The Loop
Play Sound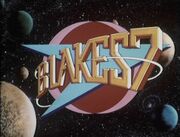 Blakes 7 was a British science fiction television series produced by the BBC for BBC 1 channel. Created by Terry Nation, a prolific television writer best known for creating the Daleks for Doctor Who in 1963.
Blake's 7 was broadcast for four seasons from 1978 through to 1981. With a popularity sustained throughout its original broadcast run and remains well regarded by fans and critics alike for its dark tone, moral ambiguity and strong characterisation, although some aspects of the wider British public recall it more for its low production values and the uninhibited acting techniques employed by many cast members.
Blake's 7 has had several reincarnations following the end of its final season in 1981. Mostly in the audio spectrum through BBC Radio, then B7 Media and currently in both audio and prose form with Big Finish Productions.
Inception
[
]
to be added
TV series
[
]
to be added
Series A
[
]
to be added
Series B
[
]
to be added
Series C
[
]
to be added
Series D
[
]
to be added
BBC Radio
[
]
Two radio dramas were produced in the late 1990s featuring most of the original cast from Series D, produced for BBC Radio 4.
Reboot?
[
]
Since the end of Blake's 7 with Series D several reboots have been reported throughout the years.
In 2000 it was reported that Andrew Sewel had purchased the rights for Blake's 7 from the estate of Terry Nation with the intention to produce "a multi-million pound TV film". [1]
Then in 2003 it was reported that Paul Darrow was in a consortium that had purchased the rights for Blake's 7 the series was to take place 25 years after the events of Blake.[2]
In 2007 Sky One announced it had "the green light for the development of two 60-minute scripts for a 'potential event series'".[3]
B7 Media
[
]
to be added
Audio reboot series
[
]
The Blake's 7 audio reboot[4] of the series was produced by B7 Media. These series of audio adventures were a reboot, utilising the core concept and story of Blake's 7 while recasting and rewriting a majority of the characters and story of the series. Expanding on many aspects that were only hinted at in the television series. Two series were produced, a series of 5 minute episodes that were collected into three releases under the banner A Rebellion Reborn and a series of stories focusing on the early lives of the main cast of characters The Early Years.
Big Finish Productions
[
]
In 4 July 2011, B7 Media announced a "licence deal with Big Finish Productions to produce original audiobooks and novels" based on Blake's 7, featuring the original TV series cast. The series launched with The Liberator Chronicles: Volume 1 in 1 February 2012. This first release featured Paul Darrow, Michael Keating and Gareth Thomas along with a third actor Anthony Howell.[5][6]
External links
[
]
Footnotes
[
]