In the third century of the second calendar, the galactic Federation, once a beacon of democracy and peace, has become a corrupt tyranny.
Freedom and Justice are things of the past.
Roj Blake stood up for the ordinary people. When the establishment tried intimidation he laughed in their faces. When they tried to crush him he fought back. When they tried to brainwash him into obedience, he broke their conditioning. Finally they framed him and sentenced him to permanent exile on the notorious prison planet Cygnus Alpha.
The Federation thinks it has seen the last of Roj Blake.
The Federation will wish it had…
To be added.
Other parts were played by members of the cast
Story notes
Edit
To be added.
To be added.
Production errors
Edit
To be added.
Continuity
Edit
To be added.
CD releases
Edit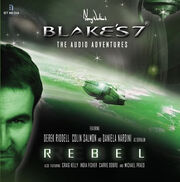 B7 Media audio release.
B7 Media audio box set release (Series 1).
External links
Edit
To be added.
References
Edit