Jurassic World: Dominion Dominates Fandom Wikis - The Loop
Play Sound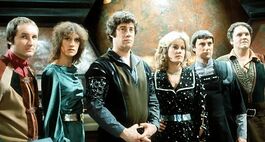 The first season of Blake's 7 known as Series A was broadcast in 1978 from January through to March. It consisted of 13 episodes. Every episode was written by Terry Nation with Chris Boucher as script editor.
Overview
[
]
The first three episodes of Series A were mostly concerned with introducing Roj Blake and those who would eventually make up his crew. Vila Restal and Jenna Stannis were introduced towards the end of the first episode The Way Back whilst Kerr Avon and Olag Gan were introduced in the second episode Space Fall. The Liberator is also introduced in the second episode with the ship's computer Zen debuting in the third.
The final member of Blake's crew Cally was introduced in the fourth episode Time Squad.
Servalan was introduced to the series in the sixth episode Seek-Locate-Destroy along with Travis.
The final two episodes of Series A are linked; introducing Orac to the series in the final episode Orac.
Cast
[
]
Recurring cast
[
]
Guest cast
[
]
Production
[
]
to be added
Stories set during this series
[
]
to be added
Home media
[
]
VHS
[
]
to be added
DVD
[
]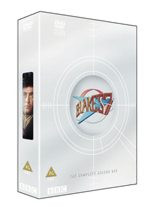 to be added