Jurassic World: Dominion Dominates Fandom Wikis - The Loop
Play Sound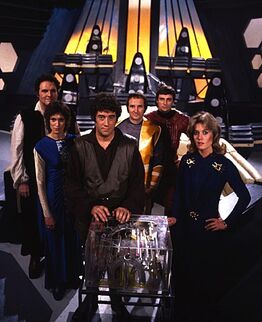 The second season of Blake's 7 known as Series B was broadcast in 1979 from January through to April. It consisted of 13 episodes.
Overview
[
]
The season premiere, Redemption, resolved the previous season's cliffhanger, in which the Liberator was apparently destroyed. This is revealed to be part of a prediction made by the supercomputer Orac, who officially joins the crew. The events that followed answered the mystery of who created the Liberator, which had remained a mystery since the ship's introduction in Space Fall.
Series B is a season in two parts, before Pressure Point and after Pressure Point. Pressure Point seemingly culminates in Blake's desire to bring down Control; the control centre for the Federation. The episode ends with the death of Olag Gan. The following episodes begin Blake's drive to find Star One the actual control centre of the Federation, while Series B does end with its destruction it is not at Blake's hand.
The fallout from Pressure Point had continued into the following episode, Trial, which saw Travis dismissed from Space Command and becoming a Federation fugitive, continuing to hunt Blake and the Liberator for his own personal reasons. His relationship with Servalan became increasingly fraught, with them alternately allies or working against each other, culminating in him allying with the Andromedans against the Federation.
Series B is the last season to properly feature Blake until the final episode of the series, however he does appear in the Series C final episode Terminal. The season finale also featured the last appearance of Jenna. With the season ending on a cliffhanger with the Liberator about to engage an Andromedan invasion fleet, the explanation for their absences would have to wait for the next season.
Series B is the final season to feature Travis.
Cast
[
]
Recurring cast
[
]
Guest cast
[
]
Production
[
]
to be added
Stories set during this series
[
]
to be added
Home media
[
]
VHS
[
]
to be added
DVD
[
]
to be added
External links
[
]
to be added